PartyPreOrders Help Manual
<![if !supportLists]> 1. <![endif]>How to Register for a New PartyPreOrders Account…
<![if !supportLists]> a. <![endif]>Visit http://partypreorders.com/Preorders/Register.aspx and you will be taken to the following screen: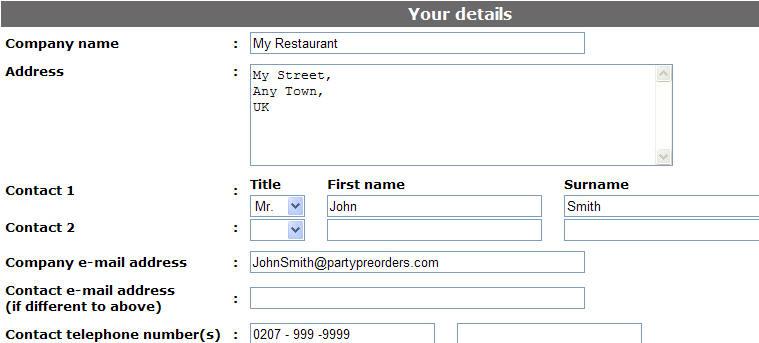 [Image No.1]
<![if !supportLists]> b. <![endif]>Fill in the form, which is fairly self-explanatory. [The 'Company e-mail address' will be used as the primary address to send any pre-orders and the secondary address will be used for any correspondence from ourselves.]
<![if !supportLists]> c. <![endif]>Read the 'Terms & Conditions' (by clicking on the link, which opens in a new window), then click the tick box to agree to them and finally click the 'Submit' button to generate your new PartyPreOrders Back-office account.
<![if !supportLists]> d. <![endif]>Within a few minutes you will be sent your unique log-in 'userid' (company code) by email. Don't forget to check you 'junk mail' folder, just in case it arrives in there. If it does you may wish to mark it as 'safe' so that when you receive pre-order confirmations, you won't miss them by mistake.]
<![if !supportLists]> e. <![endif]>Follow the link within the email to the log-on page and then you are ready to create your first online Party Pre-Order…
N.B. I f you should either not receive a confirmatory email or have problems logging on to our system, then please call at help desk on 0774 221  9617 or email us at help '@' partypreorders.com