PartyPreOrders Help Manual <![if !supportLists]><![endif]>
7<![if !supportLists]> <![endif]> How to View / Edit / Delete / 'Mark as Processed', a Party or Group's Details
a) Click on the date/time link relating to the group you wish to edit (see Image No10), which will take you to the screen below: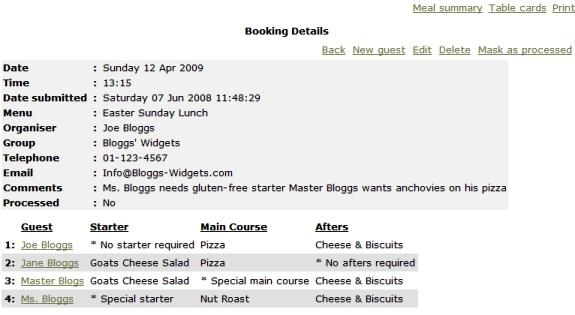 [Image No.16]
b) Delete - Here you can delete the entire table booking for the group, by clicking 'Delete' and 'Ok' to the confirmation. If the group has more than one table then this step must be repeated by selecting the other table(s) and deleting them as well.
c) 'Mark as Processed' – By pressing the link 'Mark as Processed, will put a green tick in the parent screen as shown in the image below. By subsequently clicking on 'Mark as Unprocessed' will then remove the green tick.

[Image No.17]
This 'mark as processed' function will allow you to keep track of when you have, for instance printed out a pre-order or have received the deposit.
d) Edit - By clicking 'Edit' (in Image No.17), you can then edit an existing group's details as shown in the image below. Here you can change the date & time of the booking, as well as their contact details. A further feature of our pre-order database, will allow you to 'add your own additional comments', which will appear on the 'Kitchen/FOH' printouts. This may be useful if you wish to add any information about a group to the Front of House (FOH) staff or kitchen, relating to the booking. As with all other procedures, make sure you press 'Save' to commit any changes to the database.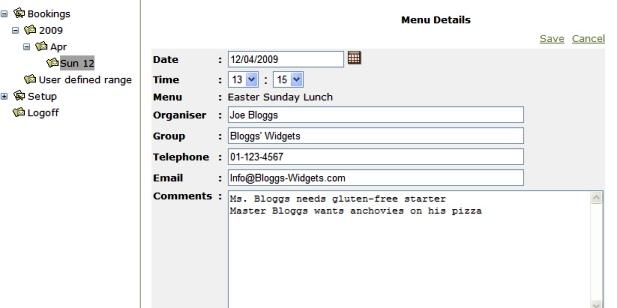 [Image No.18]
e) New Guest – This function will allow you to add a new guest's pre-order manually and after the original online submission. Using it is almost identical to the procedures below for editing and individual diner's order, so please follow the instructions beneath…