Tom Browns Brasserie at Gunthorpe, Nottinghamshire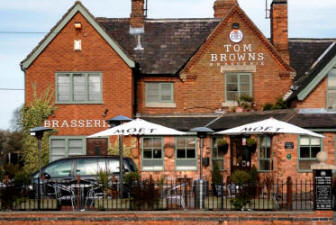 Tom Browns is one of Nottinghamshire's best out-of-town restaurants currently awarded with two AA rosettes and in 2007 won the ITV Central News Viewers' Restaurant of the Year.
They have been successfully using our Party Pre-Order system since 2007.
In 2008, 677 parties at Tom Browns used our online system catering for over 5000 of their diners. And remember, our sytem includes the automatic online production of individual tents cards and kitchen tickets for printing - Just imagine how much money that you would save compared to having to pay your staff to hand-write them all!
Tom Browns doesn't just use our system for the busy Christmas period, but also throughout the year for weddings, functions & special events, such as Mothers' Day and their annual Summer Ball.
Click here to view their website (and look out for their use of our pre-order system on some of their menu pages).
And, don't just take our word for it, please feel free to call the proprietors, Adam & Robin Perkins or their restaurant manager, Dan for an independent opinion on 0115 - 966 - 3642.